May. 07, 2022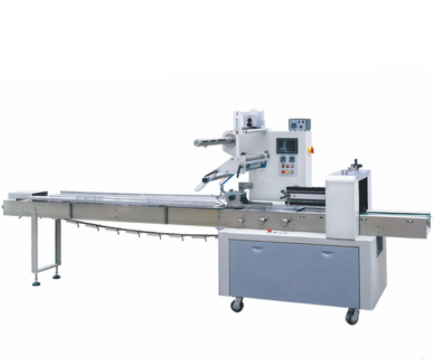 What is Horizontal Flow Wrapping Machine
Automatic horizontal flow wrapping machines are designed to package a wide variety of products that require a specific look and feel.
To best define the technology as a whole, let's go thru each part of its naming:
ㆍHorizontal: The product is inserted onto the machine's conveyor bed and then travels horizontally to the sealing head.
ㆍFlow: The product flows from either left to right or right to left to the sealing head.
ㆍWrapping: The product is wrapped with protective packaging, often called film. That film (or roll stock) is available in many different structures and materials depending on the requirements of your marketing needs.
ㆍMachine: All the above processes are completed automatically by one packaging machine.
Flow wrapping or flow packing is most commonly used for single-serve products (cookies, chocolate bars, candy, coffee filters, soap, wet wipes, whole vegetables, or fruits) as well as products that are in carton trays (tomatoes, mushrooms, sandwiches, meal kits) or to wrap widgets (hardware tools, home goods, appliances). Automatic flow wrappers like the HITEC are easy to use, compact and affordable while being easy to use.
Flow wrap machines are at the heart of the flow wrapping process. Packaging by horizontal flow wrappers is an operation in which a high volume of small products proceeds down a production line on a conveyor. The flow wrap packaging machine wraps them individually in transparent or highly-decorated plastic or metalized film before they are placed in multi-product form fill packages for sale. This is a very high-speed operation.
This is a process most often used for candies, baked goods, and health products such as granola bars. Since they will be separated from their master package for consumption, it's essential that both brand identity and required coding be part of each unit product. While it is possible to apply codes such as "best by" dates after flow wrapping, it is much more practical to apply codes and any variable brand information to the film before it enters the flow wrapper. This helps ensure better quality printing and more readable codes.
A wide range of printers can be used to mark flow wrap films, including thermal inkjet, continuous inkjet, thermal transfer overprinting, and laser marking systems. Each has capabilities that match the demands of different flow wrap situations.
Principle of Operation of a Horizontal Flow Wrapper
Every wrapper has an infeed conveyor, a film feed assembly (backstand), a film forming area (former), bottom seal (finseal), a cutting head and a discharge area. Food and non-food products created by processing equipment, are placed on the infeed conveyor of the flow wrapper. This can be done by hand feeding or by using an automated feeding solution.
As the infeed conveyor delivers product to the forming area, film is drawn from the film feed assembly into the forming area, where a film tube is formed around the product and a finseal is created. The film tube and the product are then delivered to the cutting head. The cutting head creates the end seals while it cuts apart adjoining wrapped products into individual packages, and delivers the packages to the discharge area. From the discharge area, the packages can be either cartoned at a packing station or accumulated for packing at a later time.
We are a Horizontal Flow Wrapping Machine supplier, please feel free to contact us if you need them!