Fully Automatic Cartoning Machine
Cartoning machine is a kind of packaging system which erect, close and fill sealed cartons, it used in all fast moving consumer goods sectors, especially food, confectionery, tobacco, tea and coffee, pharmaceuticals, toiletries, cosmetics, household products and DIY. They pick up a flat carton(know as blank), erect it into a rectangular shape, push the product into the carton(or fill it through a vertical flow), and close the carton via end flaps or a fold-over lid. It's an ideal complement for applications in the lower output range.

GET A PRICE/QUOTE
ASK A QUESTION
RECEIVE DOCUMENTATION
Packaging styles
The Benefits
Mirrored installation possible without difficulties.
Decentral drives.
Dual inserts available with upper guides.
Hygienic design.
Intuitive, easily understandable operation, user interface with graphic support in national language.
Fast, reproducible and tool-free format change, additional options for further simplifications available.
Trouble-free processing or critical folding box material due to forced box erection.
| | |
| --- | --- |
| Model | HiTec-C60 |
| Capacity | 40-60 cartons/min |
| Carton size | Length: 135-200 mm Width: 50-150mm Height: 20-40mm |
| Carton material requirements | Thickness: 300-450Grams/m³ Impression: ≥0.4mm |
| Machine material | Aluminium + Stainless steel |
| Power | 220VAC, 1-Phase, 50Hz, 0.75KW |
| Weight | 1200KG |
| Dimensions | 3055 * 1362 * 1783mm |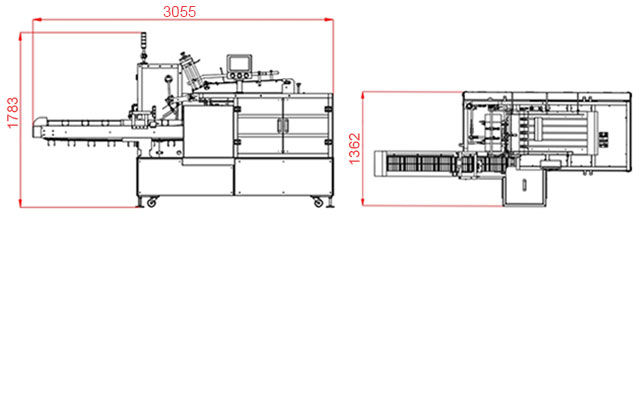 --Screw air compressor.
--Weighing system (Load cell scale with vibrating, Linear, Volumetric cup, Auger etc...).
What is a cartoning machine
Cartoning machines are sometimes called carton form, fill, seal machines, based on the working flows and principles, there are roughly two types in the market: Horizontal cartoning machine and vertical cartoning machine, the key consideration in deciding on which type of cartong machine will be used include the material you use, size of carton, carton shapes, capacity, budget, as well as the target market, etc. another important factor is the types of carton including: open sleeves, many different types of tuck, overlap and seal. Many use a simple fold to close, or pre-cut tabs and slots or glue.

Become a Distributor
Learn how to become a representative of HiTec in your region / country