Premade Pouch Filling Sealing Machine
Every premade pouch filling sealing machine from HiTec is custom made according clients' demands, it's capable of running a variety of pouch types within it's pouch size range, easy integration with volumetric cup filler, multi-head weigher, auger, liquid pump, as well as infeed and outfeed conveying equipment. Two extra stations can also be added for more capabilities and features beside standard ones.

GET A PRICE/QUOTE
ASK A QUESTION
RECEIVE DOCUMENTATION
Packaging styles

Doy bag
Doy bag with zipper

Doy bag with hole

Stand up pouch
The Benefits
Compact overall footprint
30-Second changeover
Centralized adjustments for gripper width
Wide pouch size range
High flexibility
SS 304 steel machine frame

Supports multiple bag types
Nitrogen gas flushing before sealing, keep product fresh
Various infeeds, such as auger, multihead weigher/scale, volumetric cup
Applicable in almost any industry(Food, Confectionery, Home care, Pet food, Pharma, Personal care)
Model
HiTec-APM
HiTec-PPM
HiTec-MPM
Capacity
10-40 bags/min
Filling range
1-2000Grams(depends on the density of the raw material)
Measurement
Auger
Pump
Multihead weigher
Precision
±0.2-3Grams(depends on the material)
Bag size
120-380 * 100-260mm(Length * Width)
Bag type
Stand up pouch, Zipper bag, Sitting bottom bag, Gusset bag, Doy bag
Packing material
PP, PE, PVC, PS, EVA, PET, PVDC+PVC, OPP+Composite CPP etc
Power
380VAC, 50/60Hz, 3.8KW
Dimension
2440 * 1480 * 2380mm
2540 * 1480 * 2080mm
4515 * 2440 * 3600mm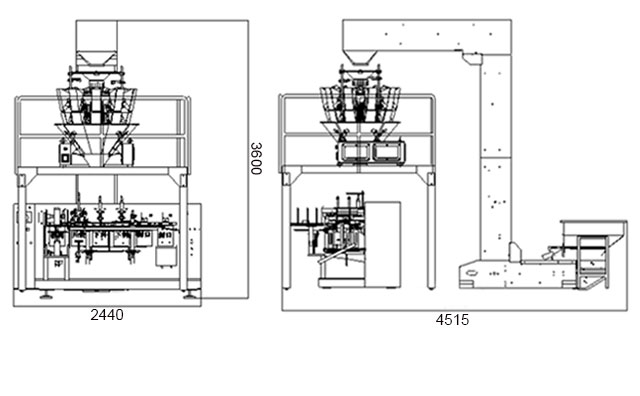 --Measurement(auger filler, multi-head electronic scale).
--Zipper option.
--Date code printer.
Premade pouch filling machine
HiTec's Pre-made pouch fill and seal machine include an easily accessible bag magazine( to ensure every bag enters the machine operation), an automatic zipper opening device, a filling station with bag shaker, and an integrated finished product exit conveyor. It feature a variety of options depending of your packaging needs, can pack almost everything into a pouch. The straight-line design, horizontally loading product, creates a distinct apperance and ensures the operator can see the entire bag opening, filling and sealing processes without the assistance of others, makes it easier to operate, service and clean. It's engineered for medium to high production rates up to 2,400 bags per hour.
It's capable of running a variety of pouch types, such as doy bag with or without zipper, pillow pouches, 3-side or 4-side seal pouches, stand-up pouches(SUP, SURP, DOY), and handling a wide range of pouch sizes. As the pouches are already made, so the usage of premade bags also reduced the level of expertise needed to operate a machine, even an new employee can manage the infeed of bags and collection of filled pouches with relatively little training.

Become a Distributor
Learn how to become a representative of HiTec in your region / country