Jul. 30, 2021
How To Properly Clean Your Vertical Form Fill Seal Machine
In order to achieve the best performance of your vertical form fill seal (VFFS) machine, proper cleaning and preventive maintenance are key.
If you are not sure how often to clean the VFFS machine, start with a thorough cleaning every shift. Evaluate the effectiveness of this plan and make adjustments accordingly.
VFFS machine cleaning instructions
The cleaning method, the products used, and the cleaning schedule must be defined by the owner of the packaging machine and depend on the type of product being processed and the surrounding environmental conditions (temperature, humidity, dust level, vibration, etc.).
These instructions are for guidance only. Please refer to your user manual for specific cleaning instructions for the packaging machine.
CAUTION: Before cleaning, please turn off the power and disconnect the power. Before starting any preventive maintenance activities, the energy source of the machine must be isolated and locked.
1. Use a low-pressure air nozzle to blow off loose products that have accumulated on the packaging machine.
Safety first: Use a pair of safety glasses to protect your eyes from debris.
2. Remove the forming tube and clean it. It is best to clean the part after removing it from the vertical form fill seal machine, not while it is still attached to the equipment.
3. Check whether the heat seal jaws are dirty. If it is, first removes the knife, and then clean the front faces of the jaws with water and a thin cloth.
Safety first: the sealing jaws and knives are hot! Wear heat-resistant gloves and appropriate personal protective equipment.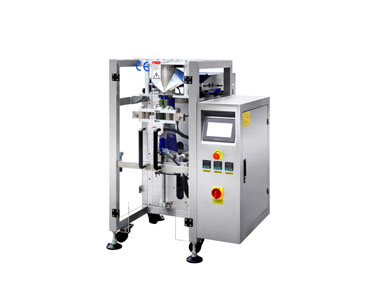 vertical form fill seal machine
4. Wipe all stainless steel guards with hot soapy water, and then dry them.
5. Wipe down all roller films and wipe dry.
6. Wipe all guide rods, connecting rods, cylinder rods, etc.
7. Reinstall the forming tube and film roll.
8. Refer to the threading diagram and re-pass the film roll through the vertical form fill seal machine.
9. Wipe down all guides and slides with mineral oil. Only use FDA-approved lubricants!
More preventive maintenance and cleaning tips for VFFS machines
Cleaning your vertical form fill seal machine is just the beginning! Preventive maintenance tasks are equally important for the best performance and longevity of the equipment.
We are vertical form fill seal machine suppliers. Please feel free to contact us if you are interested in our vertical form fill seal machine or other products.